As many of you know, the Historical Sew Monthly challenge this month is "Heirlooms & Heritage". The description for it is thus:
Re-create a garment one of your ancestors wore or would have worn, or use an heirloom sewing supply to create a new heirloom to pass down to the next generations.
There is a LOT of interpretation in this one. I decided I wanted to go with recreating a garment an ancestor would have worn - and hit the attic at my parents house.
My Goodness!
Did I find a treasure trove! I found a TON of photos of my Mom's paternal family. I only ever knew my Papa (Mom's Dad) and my Aunt Elva (technically a cousin by marriage as I found out!) from that side of the family. Most of the others passed away long before I was born. However, thanks to my Mom, I have heard a lot of stories.
Mom has always told me I'd get along great with Aunt Nan. Aunt Nan was one of my Papa's aunts. She apparently had an affinity for anything turquoise or pink as well and always had a ton of fashionable accessories. Over the years, I've inherited some of both hers and Aunt Maggie's (her sister) jewelry and gloves. I've been wearing some of her gloves from the 50's and 60's to various events over the past couple of years. I'm just glad I have the same size hands as she did!
A group of photos stood out when I was going through the ones in the attic.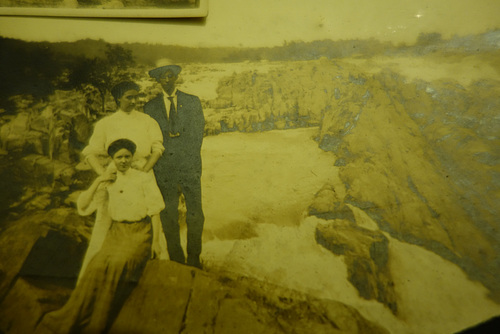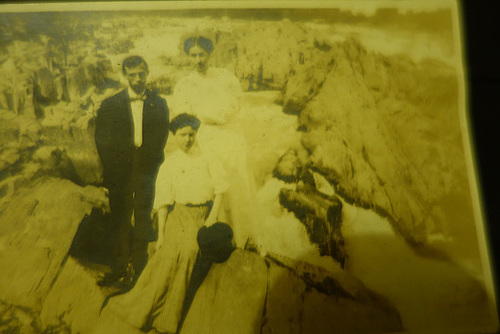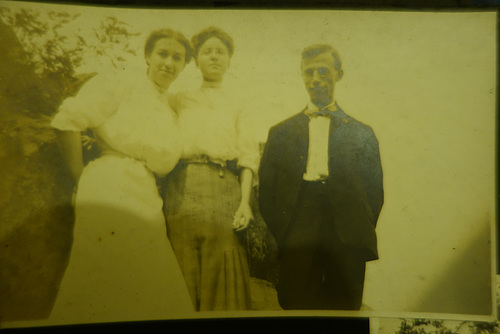 These photos stood out for a couple of reasons - I love Aunt Nan's and Aunt Maggie's outfits (Aunt Nan is wearing the lighter colored skirt and Aunt Maggie has the darker one - plus she always has her glasses) but also I KNOW THAT PLACE!!!!!!
Notice, that "seat" in the rock is still there. It's Great Falls. My parents' home is maybe 10 or 15 minutes from there on the Maryland side. I've been there a ton of times and recognized it immediately. So, for fun, I decided that I have to recreate one of either Aunt Nan's or Aunt Maggie's outfits and go to Great Falls to partially recreate the photo.
Based on what I have in the sewing stash, I decided on Aunt Maggie's outfit. I have a light weight red wool that would work for the skirt and a nice off white linen for the blouse. As for the corset and undergarments, I'm cheating and using my Teen's era stuff. The photos are probably from about 1906/1907 based on what they are wearing.
Going off that, I did a LOT of research and hemmed and hawed about what I wanted to do exactly. It's hard to tell what is going on in terms of details with Aunt Maggie's blouse and her skirt. I can see a bit more with the photo of them looking down at us, but still it's hard to say what is really going on.
So, for a base, I'm using Simplicity
8375
. I've already edited it a lot for the blouse as I really just used it as a sloper. I have no doubt that the skirt will need some editing too - but it's something I can work with to get the correct shape if nothing else. The skirt is a three gore one which I know they were still using in the mid Edwardian period.
The above is what I eventually decided I wanted the blouse to look like. It's from
The Ladies Home Journal 1906
via
Real Historical Patterns
on Tumblr. If you don't know about Real Historical patterns yet, you can thank me later. It's a fabulous resource for pre-1929 patterns. For this shirtwaist, I love the pintucks and I like the idea of adding lace over the pintucks. No only does the pattern show that as an option (the tiny blouse between the ladies heads) but
there's this extant one over at my other blog
that shows black lace over fabric rather than the insertion we are used to seeing during this time period.
So, using Simplicity as the base to get the armscye straight really (and keeping the math to the minimum since it was just increasing the neckline and shoulder rather than measuring everything out), I came up with this:
I'll sew up the pintucks and the shirtwaist tomorrow to see how it goes. I'm hoping this will turn out well and look just as cute as Aunt Maggie's original blouse. For the lace, I happen to have a lot of vintage deadstock lace that will work well. The one I'm using might actually be Edwardian.
It looks very similar to the lace that is on the extant gown I've linked to above. I think it will add a nice frilly touch to the blouse.
For the skirt, I'm working on that tomorrow as well. More progress photos and the final product over the next few days!