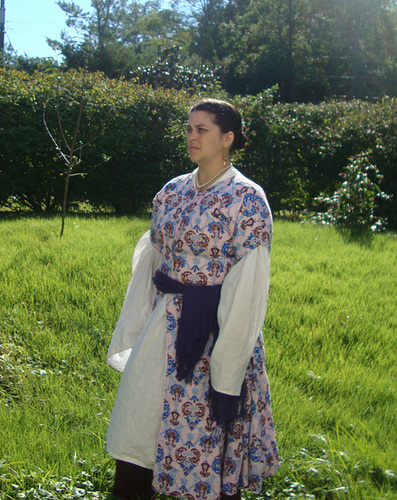 I tried it on without the chemise and with my t-shirt so it doesn't really look that funny when I wear it correctly. I promise better pictures at Pennsic.
The Challenge:
Eastern Influence
Fabric:
Linen, linen, and more linen...with a silk scarf but I didn't make that
Pattern:
My own!
Seriously.
Year:
16th Century but more towards the middle
Notions:
Very evil purple thread that wanted to break every foot
How historically accurate is it?
The fabric is correct, the cut is correct, I did machine sew it but the only non-handsewning that is visible on the coat are the buttonholes.
Hours to complete:
More than it should have been. The stupid purple thread kept breaking as I was sewing on the machine
First worn:
At Pennsic
Total cost:
I got all the fabric on sale a year ago when I first saw the print. I think the total is rougly $55 but I'm not sure.
And now, the rest of the story! I love the Turkish coats of the 16th C. They were worn in Turkey and Italy. You can see a few pins
of paintings
depicting ladies in Italy wearing the Turkish style. It was popular and it is comfortable. I went with a linen print that really does mimic some of the prints of the day. The pants I plan on wearing with the coat are out of a purple linen. I already have a chemise as I've worn this style before. It's great for Pennsic mainly because you are wearing pants and don't have to worry about your hem dragging through mud.
Feel free to ask questions! I have a link to my old documentation for this style above.